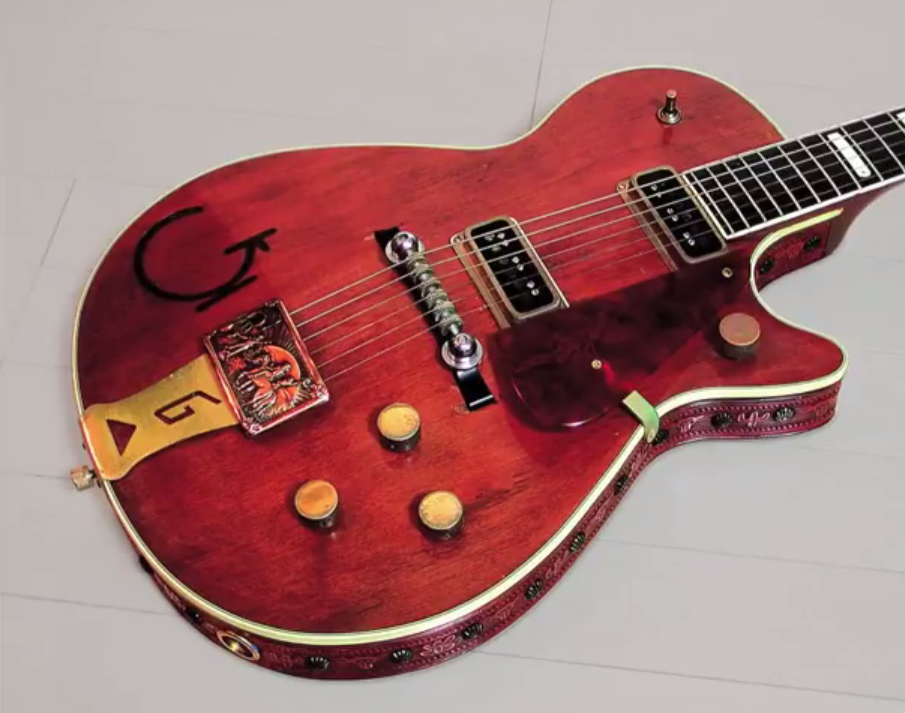 In the May issue cover story of Vintage Guitar, the magazine shines a spotlight on the charming Old West allure of the rare Gretsch 6130 Round-Up.
The article details the history of this unique guitar, which first made its debut in 1953 to catch the attention of the country market. With the rising popularity of the solid body Duo Jet, Gretsch decked out the instrument in quintessential '50s cowboy kitsch to create this gem.
"Breaking dramatically from the Duo Jet's look, it had a pine top bearing an orange/brown stain that resembled antique furniture, maybe with a knot or two," noted editor Ward Meeker. "Western-themed etchings on the Round-Up's fretboard inlays, the steer's head inlaid with pearl on its headstock, the tortoiseshell pickguard with engraving to match, and belt-like tooled-leather edge trim with upholstery tacks left no doubt about its target audience."
The Round-Up stuck around for a series of changes in '55, but the short-lived instrument was phased out of the lineup later that decade.
Despite its quick blip in Gretsch history, the Round-Up's Western-themed influence continued in the 6121 Chet Atkins solid and hollow body models, as well as the 6022 Rancher acoustic.
"Its looks and scarcity give it high status amongst collectors, plus it's one of guitardom's true curiosities," concluded Meeker. "Where else does talk of a model involve terms like 'G Brand,' 'cows and cactus,' and 'steer's head'?"
Read more about the Round-Up on vintageguitar.com, and check out video of the '55 Gretsch 6130 Round-Up below.