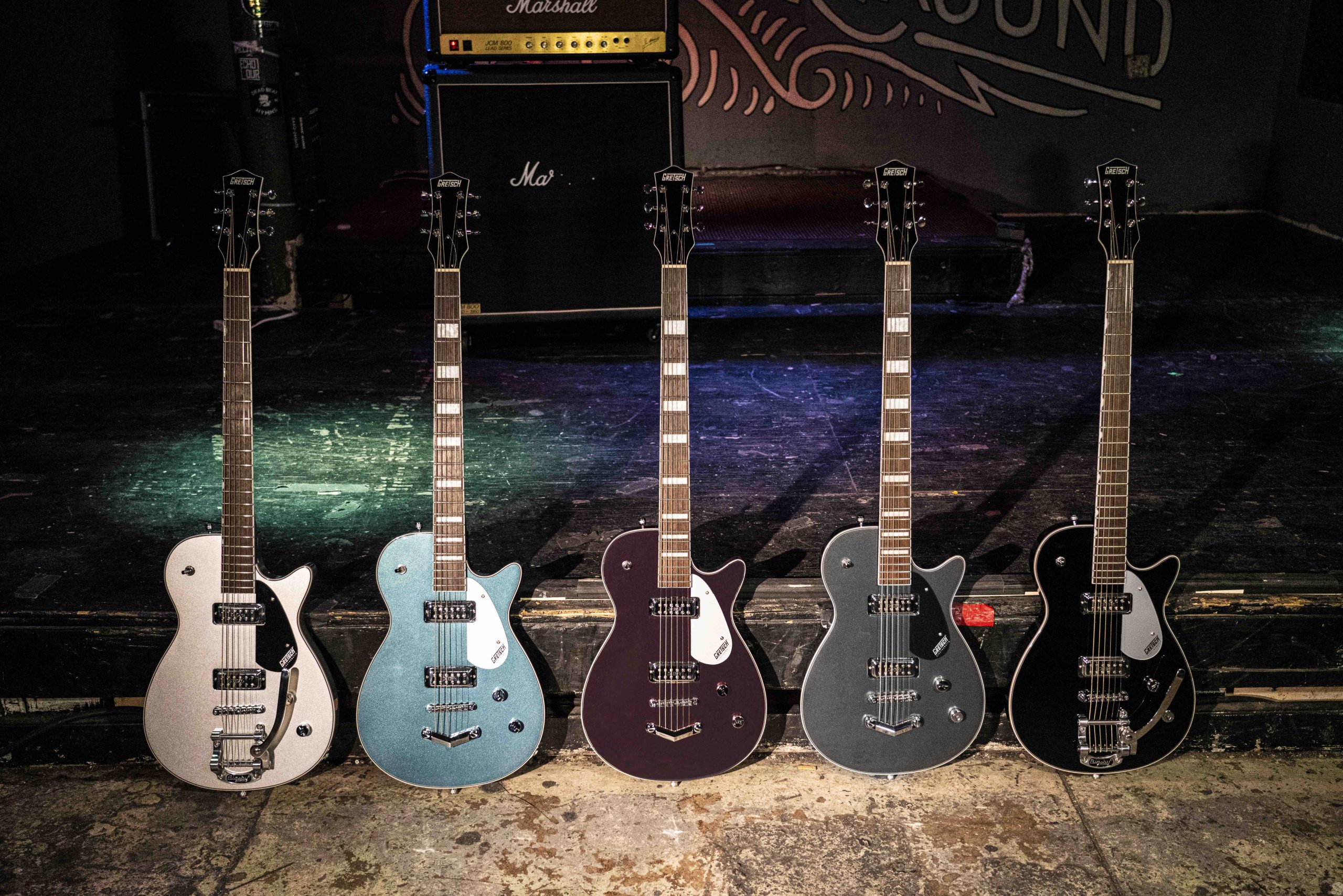 For more than half a century, electric baritone guitars have lent their deeply satisfying sonic seasoning to every kind of popular music—from Spaghetti Western film music to surf, rockabilly and classic country; and from the '60 and '70s pop charts to alt/indie rock, prog, jazz, down-tuned molten modern metal and a good deal else. In fact, from the late 1950s to the present, many and varied are the artists who've put the baritone guitar's extended-range depth to musically memorable use, and even a short list of them covers vast stylistic territory—think Duane Eddy, the Beach Boys, Allan Holdsworth, the Cure, Korn, the B-52s, Brian Setzer, Metallica, Machine Head and Hozier, to name only a few.
Baritone guitars are positively booming in recent years, and the new Gretsch® G5260and G5260T Electromatic Jet Baritone models offer infinite low-end possibilities to punch up your sound and style. Here are six reasons why you'll love slinging one:
Extended 29 ¾" Scale Length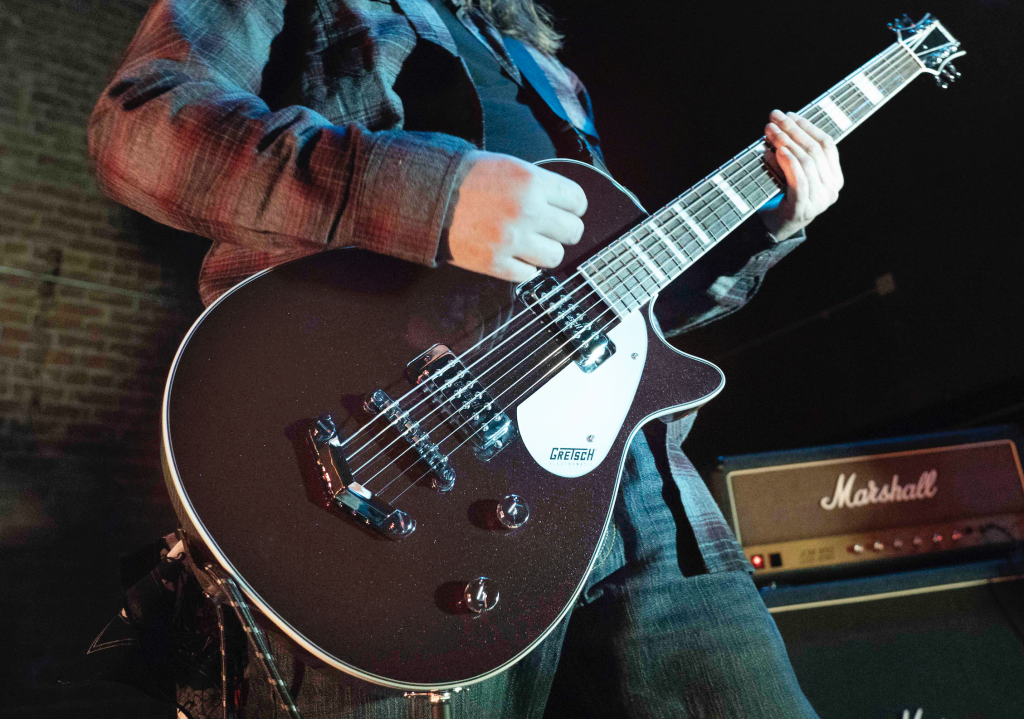 The elongated 29 3/4" scale length handles lower tunings without compromising on tone or tension that results in noodle strings buzzing against the fretboard. The outcome is a deeper richness to the bass strings and a distinct chime on the treble strings. Whether you're shredding through a solo in B standard or chasing after the famous "tic-tac" bass line popularized by Duane Eddy, your voice remains articulate and rich.
Resonant Mahogany Body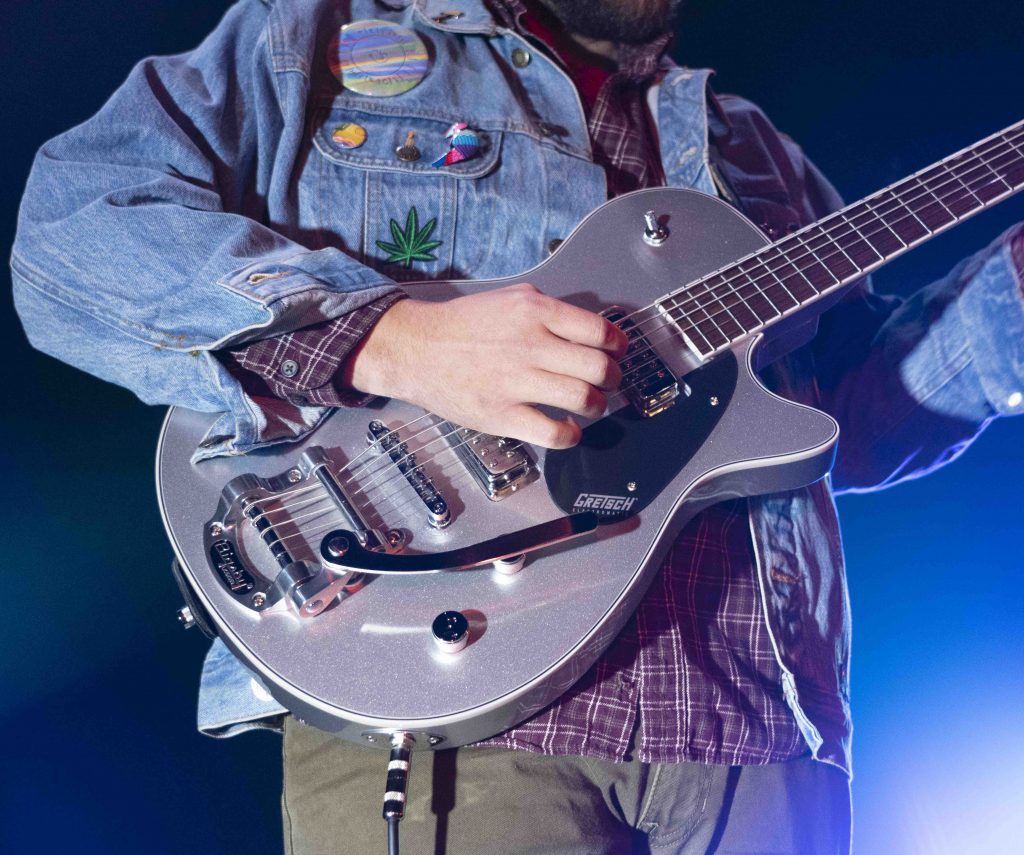 The solid mahogany body radiates with massive warmth. Mahogany is also resistant to warping and environmental strains that can impact the integrity of the wood, so you can count on having an instrument that retains peak performance.
Gretsch® Mini Humbuckers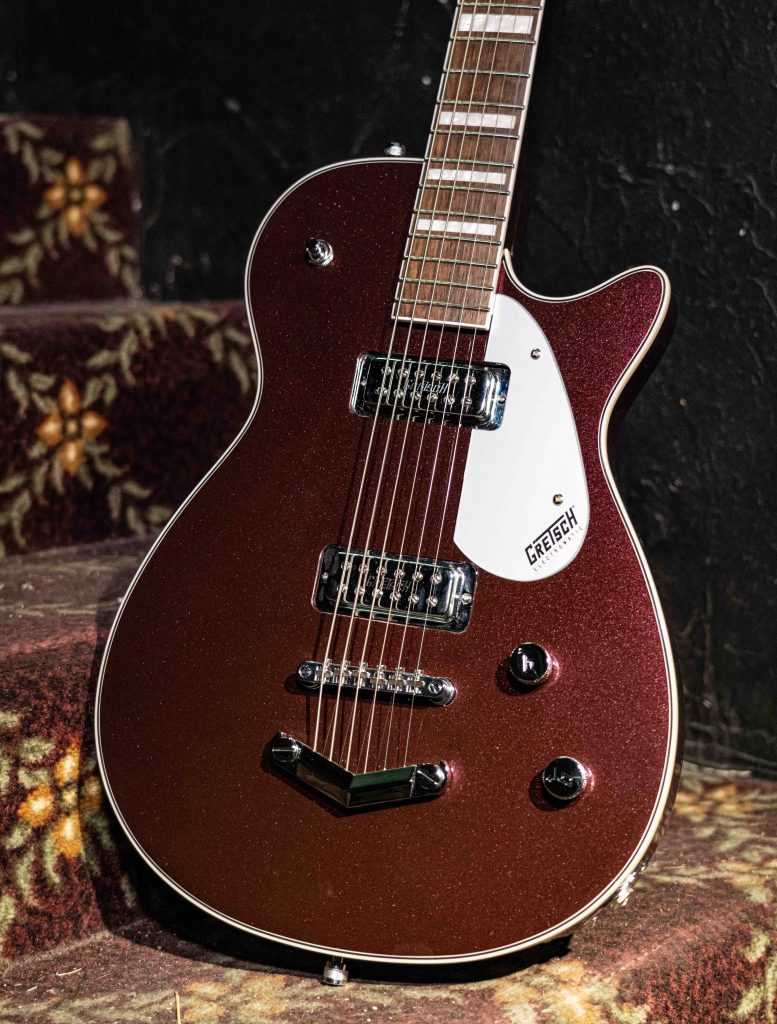 Shake things up a bit with Gretsch mini bridge and neck humbuckers. Don't let their moniker fool you, though. There is nothing miniature in sound about these intoxicating bad boys, which capture thunderous lows for powerful hard rock or metal runs and bright, articulate piano-like harmonics for distinguished jazz.
Bigsby® or V-Stoptail Offerings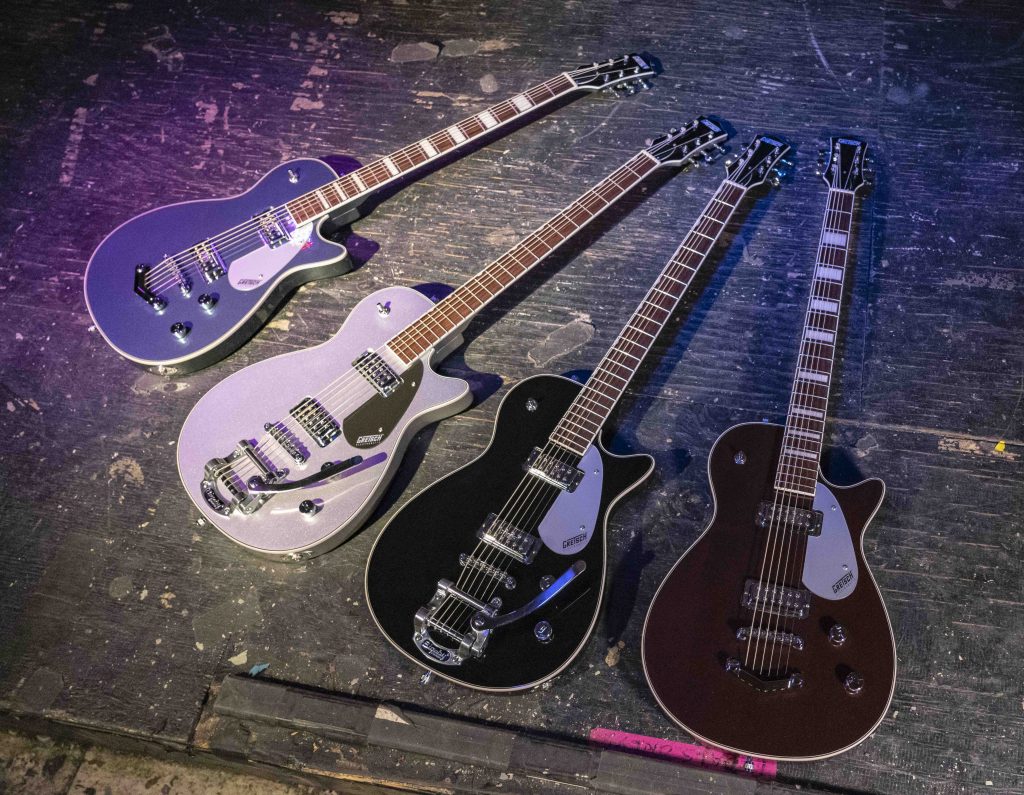 The Bigsby® B50 mounted on the G5260T Electromatic Jet Baritone adds colorful, wavy tremolo flavor to your licks for dreamy jazz or country numbers.
Need something that provides more solid tuning stability for aggressive styles of play? The G5260's V-Stoptail is ideal for the hard rock or heavy metal axeman and keeps the instrument acutely in tune and riff-ready even after the widest bends and heaviest runs.
Swaggering Style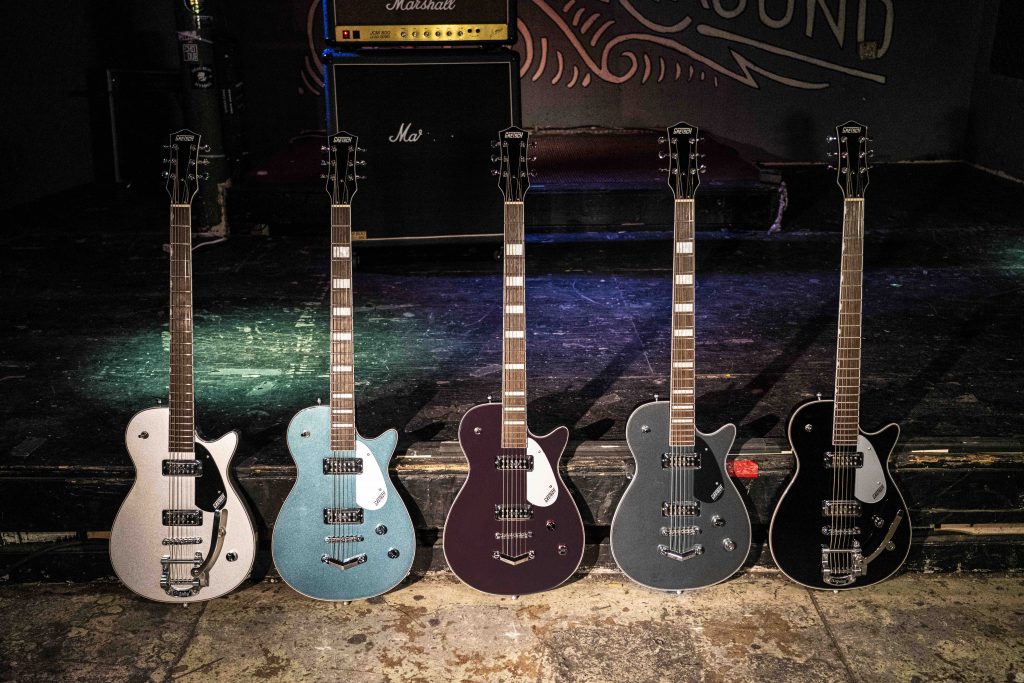 Boasting swaggering style, the G5260 is offered in Dark Cherry Metallic, Jade Grey Metallic or London Grey, while the G5260T is decked in classic Black or Airline Silver.
The LOW "No Way?" Price Tag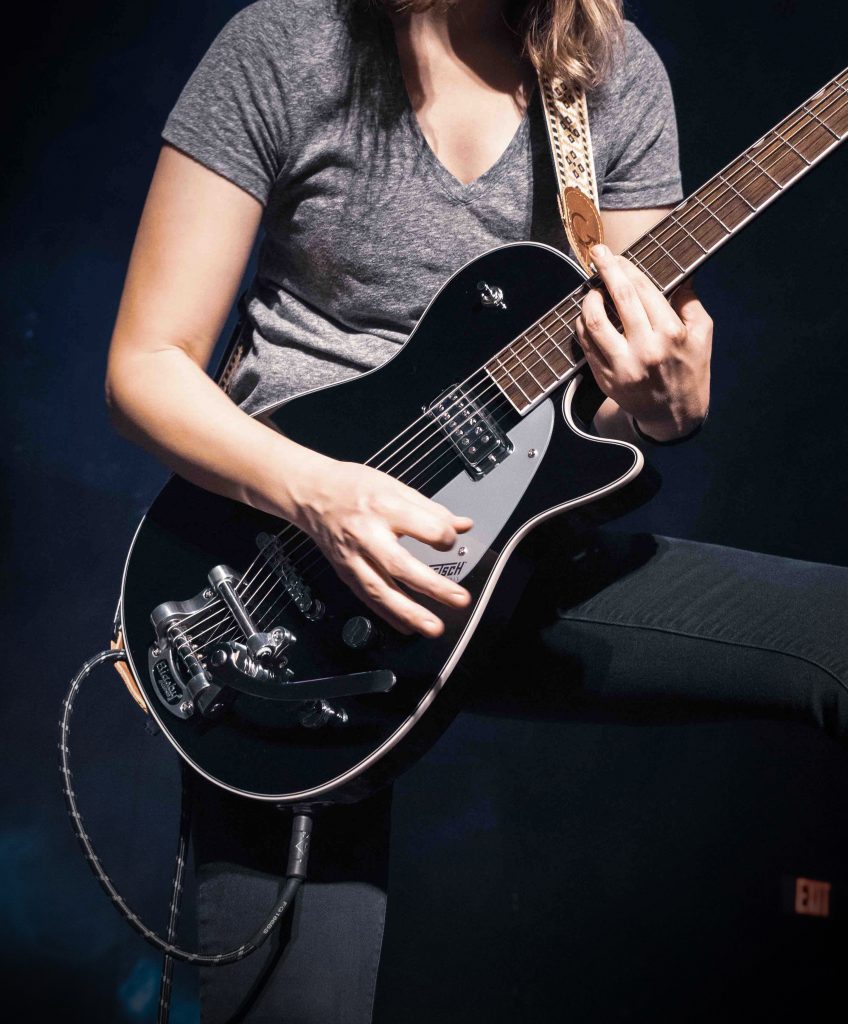 Like our entire Electromatic Collection, these instruments are loaded with great value and very competitively priced. The G5260 can be snatched for $549.99, while Bigsby lovers can get a G5260T for $649.99.